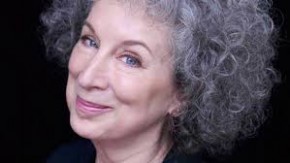 When Margaret Atwood was growing up in the '40's and '50's, science fiction was all the rage.  Therefore, it's no surprise that some of her best-know novels, like "The Handmaid's Tale" and the trilogy "Oryx and Crake", have what some call a sci-fi flavour.
At first glance then, her latest novel, "The Heart Goes Last", might also classify as fantastical and part of a future not yet glimpsed.  The author disagrees.
Atwood says "The Heart Goes Last" is set "only slightly" in the future.  It's story of spouses Stan and Charmaine, who've been living in their beat-up car after losing their jobs and home following an economic and societal meltdown.