Police in Denmark are looking for two men suspected in the theft of a small bust by French sculptor Auguste Rodin – from a Copenhagen museum.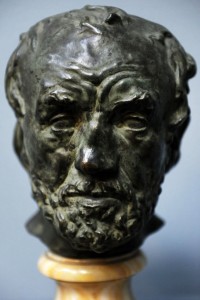 Surveillance video shows two men – with what's described as "eastern European features" who are believed to have taken the 10-and-a-half inch bronze sculpture from the Glyptotek  museum in downtown Copenhagen- on July 16th.
Reports said the men had likely neutralized the alarm – when they visited the museum nine days earlier. They were able to walk away with the rare sculpture in a bag – without being stopped – during normal visiting hours.
The dark-greenish patina bronze work titled "Man with the Broken Nose" dates from around 1863 – and is one of several pieces Rodin created – of an elderly Parisian workman.