Visitors to the Smithsonian's National Air and Space Museum now have the opportunity to get an up-close look at some of the outer space mementos Neil Armstrong meant to leave on the moon 46 years after he took his giant leap for mankind.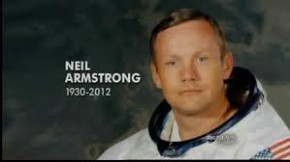 Shortly Armstrong died his family reached out to the Smithsonian about artifacts from his career found at his Cincinnati, Ohio home.    Armstrong's widow had discovered a bag in her husband's closet filled with items that she believed came from a spacecraft. After close analysis, a team from the museum determined the  bag contained items that were flown in the Lunar Module Eagle during the Apollo 11 mission.
Two of the items are currently on display in the temporary "Outside the Spacecraft: 50 Years of Extra-Vehicular Activity".  One is a 16mm camera that recorded the landing and Armstrong's one small step. The other item is one of two waist tethers, which Armstrong jerry-rigged to support his feet during the single rest period on the moon.
The Smithsonian will continue to catalogue all of the items and plans to eventually put them on public display.