Broadway royalty said a final farewell to a larger-than-life theatrical star.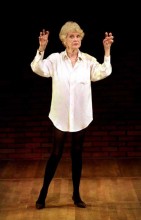 Famous names were on stage and in the audience yesterday for Everybody Rise: a Celebration of Elaine Stritch.
The audience included David Hyde Pierce, John Lithgow, Chita Rivera, and Brian Stokes Mitchell.
Nathan Lane talked about his friend's frankness. He said she told him after seeing him in the musical The Addams Family, "Whatever they're paying you, it's not enough."
Hal Prince talked about the documentary film that captured Stritch's electrifying performance of "The Ladies Who Lunch" from the original cast recording of "Company."
Bernadette Peters finished the tribute by saying, "On her own terms, Elaine Stritch has left the building."
A portion of the proceeds from yesterday's tribute will be donated to the Elaine Stritch Scholarship Fund at the Stella Adler School of Acting.
Stritch died in July at the age of 89.