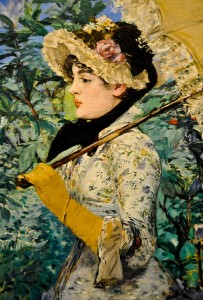 We now know who paid $65 million for a famous masterpiece by Edouard Manet.
The J. Paul Getty Museum in Los Angeles says it has acquired the Manet artwork "Spring," – a celebrated portrait of a Parisian actress – as an embodiment of the season.
"Spring" was sold last night at Christie's in New York.
The $65 million price tag is almost double the previous record of $33.2 million for the 19th century French artist.
The Director of the Getty, Timothy Potts,  says the painting from 1881 is one of Manet's great masterpieces – and he predicts it will become one of the museum's most iconic images.
"spring" is slated to be added to the gallery of impressionist and post-impressionist paintings.
The Getty says the painting is in exceptionally fine condition after being in the hands of one family – for more than a century.