I talked to Jeff Workman on Friday, October 16; he is heading the local fight to save the hamlet of Shakespeare, Ontario, from a road widening that could destroy this 177 year old village. Here is that interview:
Jeff is rallying citizen power to fight back in the name of small communities everywhere. We hope everyone who wants to preserve our history and the lifestyle of 750 of our neighbours will join in.
 The rally to save Shakespeare takes place on October 17 – this Saturday.
Here's the latest schedule from Jeff Workman:
Our Rally begins at 10:00 at the municipal parking lot, south of the highway, beside the local credit union.  For those coming from Toronto & the East, turn left at the lights.  We will have people directing traffic.
 
At 11:30, we'll have speakers talking about the highway proposal, and why it is detrimental to run it through our community, why we need to SAVE SHAKESPEARE! Thus far, confirmed speakers are Jeff Workman, Chair of Shakespeare Area Residents Association and Dave Cole Shakespeare Area Residents Association. We'll also have a few people from our community step up on stage and share their feelings about the town, ie. what Shakespeare means to them.
 
@ 12 or 12:30, we'll march down the sidewalk, staying behind the yellow tape where we can, and show everyone our beautiful downtown, walking past all the great heritage buildings. 
 
@ 1 or 1:30, we'll bring the march back to our stage, and have more speakers talk, such as Dale Goldhawk at about 1:00 to say some words. 
Goldhawk says, let's stop the Ontario Ministry of Transportation from planning to widen Highway 7 & 8. If the ministry drives ahead with its blinkered view that this is the only way to make the highway safer and useful, the widening will destroy most of the few blocks of downtown that make Shakespeare so worth a pause. Pushed aside will be the antique stores, the restaurant, the several churches and the tavern built in 1832 with the wonderful name FryFogels. Torn down will be the buildings that remind us of a past before subdivision hell in urban sprawl. Gone will be a pretty place that has struggled and scratched to stay alive for 177 years.
  The Save Shakespeare committee will have form letters and a petition available at the rally. There are 2,000 names on this petition already, three times the number of people who live in Shakespeare. Let's get a few more, like 20,000 people. How many citizens, for pete's sake, does it take to tell politicians and bureaucrats to come up with another route, another way to shave two or three minutes off the drive from Kitchener-Waterloo to Stratford, Ontario. How many of us have to yell and scream and parade and sign our names before you people listen to what WE want, for a change? 
 Take heed of the other Shakespeare who cautioned in Romeo & Juliet, "Wisely and slow; they stumble who run fast."
 In this world of speed, some perhaps desire the future too much and regard their past too little. Those we put in office too often try to run fast in lines so inflexible, they not only stumble, they take us with them down paths crooked and unwise. Now is the time to take our past back so we can live the future we really want. SAVE SHAKESPEARE and we may save a hundred other small communities as well.
See you all on October 17.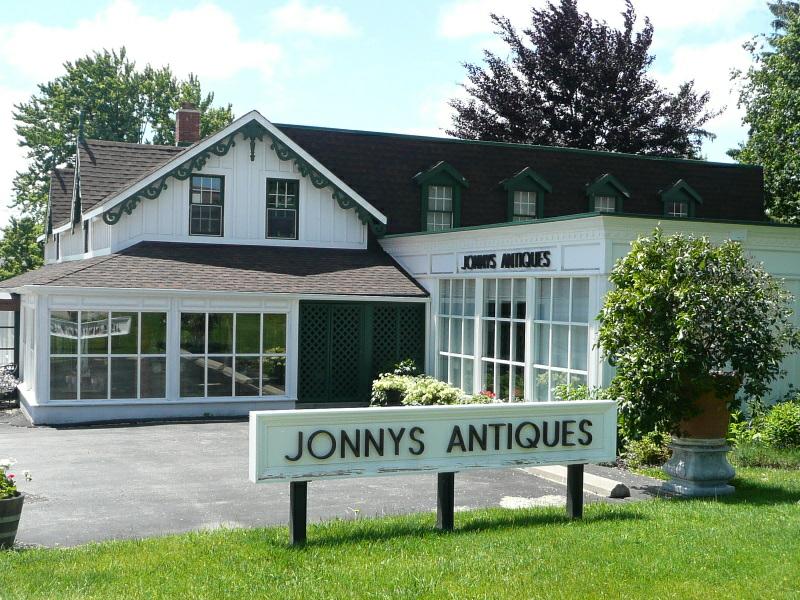 Jonny Kalisch, who owns and operates Jonnys Antiques Ltd., in Shakespeare, visited Goldhawk Fights Back on AM740, October 14, to talk about the future of his village just five minutes from Stratford.
For his interview on Goldhawk Fights Back, click here.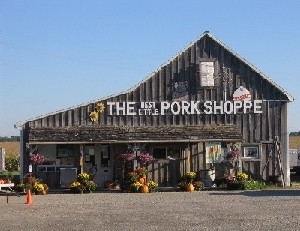 The Pork Shoppe is one of the marvelous old buildings that makes Shakespeare a place to visit and to preserve. In addition, there's Pork Street and a big pig sculpture. What more can we ask for?