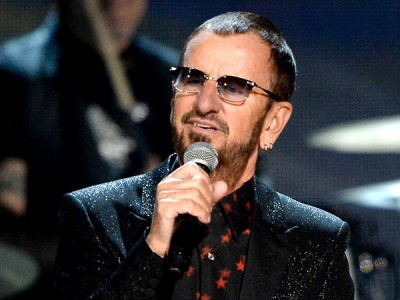 On July 7th, 1940, Richard Starkey, (Ringo Starr), drums, vocals, Rory Storm, The Beatles was born. Sang lead vocals on one track on most Beatles albums, (The Beatles scored 21 US No.1 & 17 UK No.1 singles).
Starr was twice afflicted by life-threatening illnesses during his childhood, and as a result of prolonged hospitalisations, fell behind scholastically. In 1955, he entered the workforce and briefly held a position with British Rail before securing an apprenticeship at a Liverpool equipment manufacturer. Soon afterwards, he became interested in the UK skiffle craze, developing a fervent admiration for the genre. In 1957, he cofounded his first band, the Eddie Clayton Skiffle Group, and they earned several prestigious local bookings before the fad succumbed to American rock and roll by early 1958.
When the Beatles formed in 1960, Starr was a member of another Liverpool group, Rory Storm and the Hurricanes. After achieving moderate success with them in the UK and Hamburg, he quit the Hurricanes and joined the Beatles in August 1962, replacing Pete Best.
After their break-up in 1970, he released several successful singles including the US number four hit "It Don't Come Easy", and number ones "Photograph" and "You're Sixteen". In 1972, he released his most successful UK single, "Back Off Boogaloo", which peaked at number two. He achieved commercial and critical success with his 1973 album Ringo, which was a top ten release in both the UK and the US. Although he continued to record and remained a familiar celebrity presence, by 1975 his solo career had diminished in importance.
In 2011, Rolling Stone readers named Starr the fifth-greatest drummer of all time.