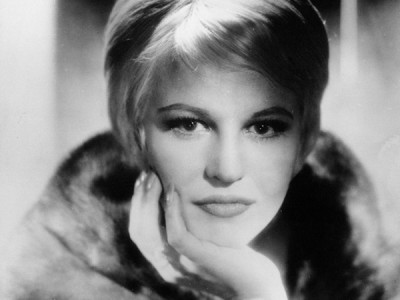 On May 26th, 1920, American singer and actress Peggy Lee (real name Norma Dolores Egstrom) was born.
In 1942 Lee had her first No. 1 hit, "Somebody Else Is Taking My Place", followed by 1943's "Why Don't You Do Right?" (originally sung by Lil Green), which sold over a million copies and made her famous. She sang with Goodman's orchestra in two 1943 films, Stage Door Canteen and The Powers Girl.
She is most famous for her cover version of the Little Willie John hit "Fever" written by Eddie Cooley and John Davenport, to which she added her own, uncopyrighted lyrics ("Romeo loved Juliet," "Captain Smith and Pocahontas") and her rendition of Leiber and Stoller's "Is That All There Is?".
Lee was a successful songwriter, with songs from the Disney movie Lady and the Tramp, for which she also supplied the singing and speaking voices of four characters. Her collaborators included Laurindo Almeida, Harold Arlen, Sonny Burke, Cy Coleman, Duke Ellington, Dave Grusin, Quincy Jones, Francis Lai, Jack Marshall, Johnny Mandel, Marian McPartland, Willard Robison, Lalo Schifrin and Victor Young.
She died on January 21st, 2002.