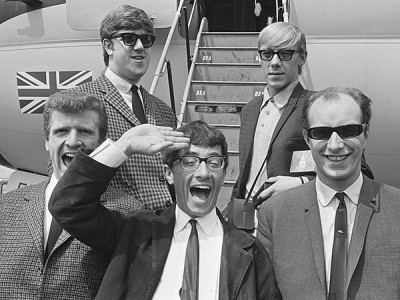 On November 14th, 1936, singer and actor Freddie Garrity was born. As the frontman and comical element in the 1960s pop band, Freddie and the Dreamers, Garrity's trademark was his habit of leaping up and down during performances. This, combined with his almost skeletal appearance and horn-rimmed glasses, made him an eccentric figure in the UK pop scene of the early 1960s.
Freddie and the Dreamers had four Top 10 UK hits: a cover of James Ray's hit "If You Gotta Make a Fool of Somebody", which reached number 3 in the UK Singles Chart in mid-1963, "I'm Telling You Now" (number 2 in August and No. 1 in the US), "You Were Made For Me" (number 3 in November) and "I Understand", which hit the number 5 spot in November 1964.
Garrity died May 19th, 2006 in Bangor, North Wales.