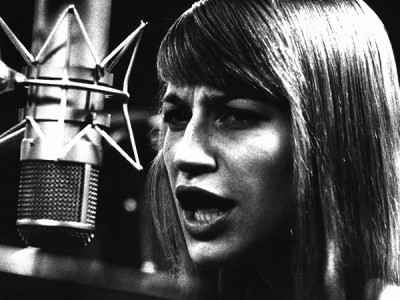 On November 7th, 1937, Mary Travers, of Peter Paul and Mary, was born. Peter, Paul and Mary were one of the most successful folk-singing groups of the 1960s. Unlike most folk musicians who were a part of the early 1960s Greenwich Village music scene, Travers grew up in that New York City neighbourhood.
The group's first album, Peter, Paul and Mary came out in 1962 and immediately scored hits with their versions of "If I Had a Hammer" and "Lemon Tree". The former won them Grammys for best folk recording and best performance by a vocal group. Their next album, Moving, included the hit tale of innocence lost, "Puff, The Magic Dragon", which reached No. 2 on the charts. The trio's third album, In the Wind, featured three songs by the 22-year-old Bob Dylan. "Don't Think Twice, It's All Right" and "Blowin' in the Wind" reached the top 10, bringing Dylan's material to a massive audience; the latter shipped 300,000 copies during one two-week period.
At one point in 1963, three of their albums were in the top six Billboard best-selling LPs as they became the biggest stars of the folk revival movement. Their version of "If I Had a Hammer" became an anthem for racial equality, as did Bob Dylan's "Blowin' in the Wind", which they performed at the August 1963 March on Washington.
In 2004 Travers was diagnosed with leukemia. She received a bone marrow transplant in April 2005, which apparently slowed the progression of the disease. Travers died on September 16, 2009, at Danbury Hospital in Danbury, Connecticut, from complications arising from chemotherapy. She was 72 years old.