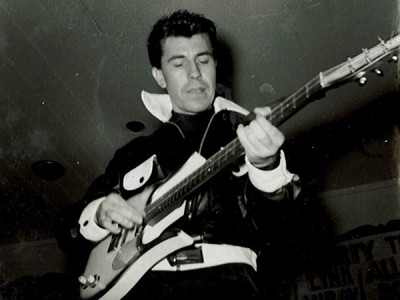 On November 5th, 2005, Guitarist Link Wray died aged 76. Wray was credited with inventing 'fuzz' guitar after punching a hole in a speaker giving him a distorted guitar sound. Famous for his 1958 US No.16 single 'Rumble' which was banned on several radio stations, on the grounds that it glorified juvenile delinquency. A rare feat for a song with no lyrics.
Wray served in the US Army during the Korean War, and contracted tuberculosis, which laid him up in a hospital for a year. His stay concluded with the removal of a lung, which doctors predicted would mean he would never be able to sing again.
After his initial hits, Wray's career had periods of retirement followed by renewed popularity, particularly in Europe. To escape the "trap" of big business involvement in music, he began recording albums using a three-track studio he converted from a chicken shack.
Rolling Stone placed Wray at number 45 of the 100 greatest guitarists of all time. In 2013 he was announced as a nominee for the Rock and Roll Hall of Fame.