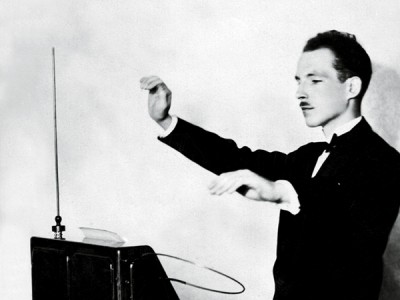 On August 15th, 1896, Leon Theremin, Russian inventor, was born. Most famous for his invention of the theremin, one of the first electronic musical instruments.
He first performed the theremin with the New York Philharmonic in 1928. He died on November 3rd, 1993.
The instrument's controlling section usually consists of two metal antennas which sense the relative position of the thereminist's hands and control oscillators for frequency with one hand, and amplitude (volume) with the other. The electric signals from the theremin are amplified and sent to a loudspeaker.
The theremin was used in movie soundtracks such as Miklós Rózsa's for Spellbound and The Lost Weekend and Bernard Herrmann's for The Day the Earth Stood Still and as the theme tune for the ITV drama Midsomer Murders. This has led to its association with a very eerie sound. Theremins are also used in concert music (especially avant-garde and 20th- and 21st-century new music) and in popular music genres such as rock. Psychedelic rock bands in particular, such as Hawkwind, have often used the theremin in their work.