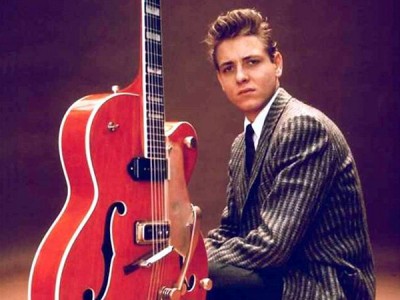 On April 17th, 1960, 21-year-old US singer Eddie Cochran was killed when the taxi he was travelling in crashed into a lamppost in Chippenham, Wiltshire whilst touring in the UK. Songwriter Sharon Sheeley and singer Gene Vincent survived the crash.
Cochran's rockabilly songs, such as 'C'mon Everybody', 'Somethin' Else', and 'Summertime Blues', captured teenage frustration and desire in the late 1950s and early 1960s. He experimented with multitrack recording and overdubbing even on his earliest singles, and was also able to play piano, bass and drums.
His image as a sharply dressed and good-looking young man with a rebellious attitude epitomized the stance of the 50s rocker, and in death he achieved an iconic status.