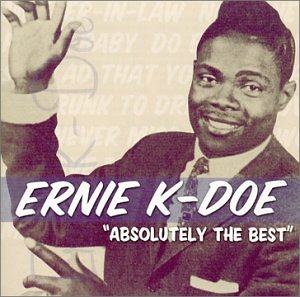 On May 22, 1961 Ernie K-Doe reached No.1 on the US singles chart with the single Mother In Law. This single was covered by many artists including Huey Lewis and the News, who recorded their song for the 1994 covers album Four Chords & Several Years Ago.
In a 1990 performance K-Doe performed seven renditions of Mother In Law while dancing in front of the Gulf of Mexico shark tank exhibit dressed in a green plumed cape.
Although Ernie K-Doe was best known as a singer, he was also an accomplished drummer.