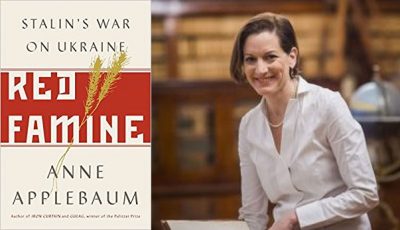 Acclaimed American journalist Anne Applebaum has won this year's Canadian-founded Lionel Gelber Prize for her book Red Famine; Stalin's War on Ukraine.
Published by Signal/McClelland and Stewart/Penguin Random House – Applebaum's book beat out four other finalists for the $15,000 prize.
The prize was founded in 1989 by Canadian diplomat Lionel Gelber – and honours non-fiction books in English on foreign affairs – "that seek to deepen public debate on significant international issues."
The Lionel Gelber Foundation awards the prize each year – in partnership with Foreign Policy magazine – and the Munk School of Global Affairs.
Applebaum is a columnist for The Washington Post – and is also a professor of practice at the London School of Economics – and a contributor to The New York Review of Books.
Her previous books include "Gulag," which won the 2004 Pulitzer Prize in General Non-Fiction.