An Ontario Liberal stronghold has gone Progressive Conservative blue.
"Together we made history," Toronto City Councillor Raymond Cho told supporters after winning the provincial by-election in Scarborough-Rouge River, a riding that's been held by the Liberals since it was created in 1999.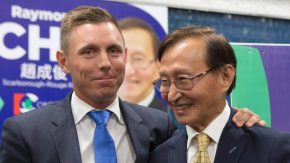 It's the third straight by-election win for the Tories since Patrick Brown became Progressive Conservative leader last year.
After Cho's win, Brown downplayed the letter that was sent to riding residents claiming he would scrap the Liberal's new sex ed curriculum.
"The fact that the letter barely got distributed shows the fact that I'm so glad that I clarified the record so quickly and Raymond Cho's going to be a fantastic MPP," Brown told reporters.
Earlier this week, Brown clarified that he would not scrap the sex ed curriculum and did not write the letter. Patrick Brown told Zoomer Radio's Fight Back with Libby Znaimer he didn't write the letter either, which prompted the Liberals to say one of them was lying.
Cho took 39 per cent of the vote, Liberal Piragal Thiru had about 29 per cent and NDP candidate Neethan Shan trailed with about 27 per cent support.
Premier Kathleen Wynne says the by-election result gives her "cause for reflection" and that her government needs to do a better job at helping people with everyday expenses such as hydro rates.