Gene Wilder decided to keep his battle with Alzheimer's disease a secret because of his dedication to the magic of his most famous character, Willy Wonka.
It was announced Monday that Wilder died of complications related to Alzheimer's at the age of 83.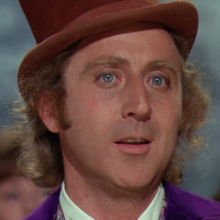 A statement issued by his nephew Jordan Walker-Pearlman, reveals the actor had chosen to keep his Alzheimer's secret so that children who knew him as Willy Wonka would not equate the whimsical character with an adult disease.
Walker-Pearlman says the decision to wait until this time to disclose his condition wasn't vanity, but that "he simply couldn't bear the idea of one less smile in the world."
His nephew added:  "This illness-pirate, unlike in so many cases, never stole his ability to recognize those that were closest to him, nor took command of his central-gentle-life affirming core personality."
Wilder's roles ranged from the charming candy man to a therapist with odd sexual tastes in Woody Allen's Everything You Wanted to Know About Sex to various film collaborations with Mel Brooks.