Prime Minister Justin Trudeau says Parliament Hill has lost a man he calls a great friend, a tireless MP and a brave fighter.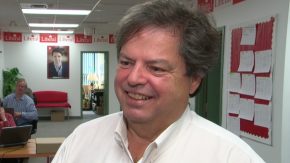 (Photo Credit: CBC)
Veteran Liberal Member of Parliament Mauril Belanger, who'd represented his Ottawa-Vanier riding since 1995, passed away yesterday after a diagnosis nine months ago of the neurodegenerative disease ALS, commonly known as Lou Gehrig's Disease.
Belanger was just 61.
He was a lifelong advocate for francophone rights in English Canada. And this past June, his private member's bill to make the national anthem more gender neutral passed in the House of Commons by a vote of 225-74. Bill C-210 changed the second line of the anthem from "in all they sons command" to to "in all of us command". Belanger was in the House for that vote.