He was an ardent nationalist and founder of The Canadian Encyclopedia. Mel Hurtig has died of pneumonia in a Vancouver hospital at the age of 84.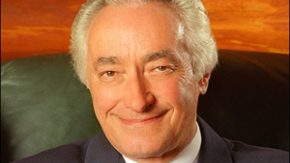 His many accomplishments included heading up what was described as the Canadian publishing house in Edmonton.
Douglas Gibson, the former president and publisher with Toronto's McClelland and Stewart, says Hurtig's encyclopedia was a huge resource in the pre-Internet era.
"It's hard for people who've grown up used to Wikipedia to realize just what a gap the Canadian Encyclopedia filled, and I'm confident that many many entries to Wikipedia are based on the research and writing that you'll find in The Canadian Encyclopedia," Gibson explained.
Mel Hurtig also authored several books, and was co-founder of the Council of Canadians, a group dedicated to preserving the country's sovereignty. He was also an Officer of the Order of Canada and had honorary doctor of Laws degrees from six Canadian universities.