The makers of Pokemon GO have been asked by the City of Toronto to move their virtual beacons away from the Jack Layton Ferry Terminal because players are crowding the area every day.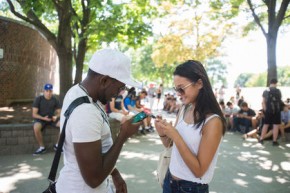 (Photo Credit: Ernest Doroszuk, Toronto Sun)
As many as five Pokestops that attract players of the virtual reality smartphone game are situated in the immediate around Toronto's ferry terminal, which is already congested during the summer months as thousands line up to board ferries to Toronto Island.
Toronto Parks and Recreation Spokesperson Matthew Cutler says the city is also offering to work with the developer, Niantic, to relocate stops to other more suitable parks.
Toronto Police Inspector Chris Boddy told Zoomer Radio News, amazingly no one has been hurt playing Pokemon GO.
"In the last couple of weeks since this app has gone live, we have gotten about 30 radio calls to our communications office and thankfully we don't have any information about anybody getting injured yet, whether as a pedestrian or as a cyclist or a motorist," Inspector Boddy explained. He says there have been noise complaints called in by residents when Pokemon Go hunters flock to various neighbourhoods late at night.
More than 30-million people have downloaded the app to their smartphone since it was first launched on July 6th.