The member of The Tenors singing group – who changed the lyrics to "O Canada" before the Major League Baseball all-star game – is stepping out of at least two upcoming concerts in Ontario.
Remigio Pereira has apologized after making headlines for changing the verse "With glowing hearts we see thee rise, the True North strong and free," to "We're all brothers and sisters, all lives matter to the great."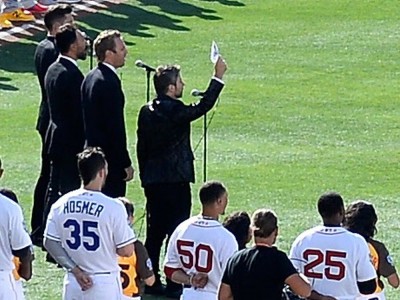 He also held up a sign with a message reading "all lives matter" on one side and "united we stand" on the other – while on the baseball field standing alongside his fellow Tenors.
After the incident, the Aeolian in London, Ontario cancelled a concert featuring Pereira and Toronto artist Pavlo scheduled for September 28th.
Aeolian production and marketing co-ordinator Michael Del Vecchio says the concert has been reinstated now that Pereira is no longer involved with the tour.