It's one of those weekends when there are highway closures in Toronto.
The Heart and Stroke Foundation's Becel Ride for Heart is prompting the shutdown of both the Don Valley Parkway and the Gardiner Expressway, between the DVP and the Humber, from 2am to 3pm on Sunday June 5th.
15,000 cyclists and 5000 walkers and runners are planning to take over the highways to raise money for heart and stroke research. Among them is Toronto City Councillor Norm Kelly. who dropped for a visit with Zoomer Radio's Happy Gang recently to explain why.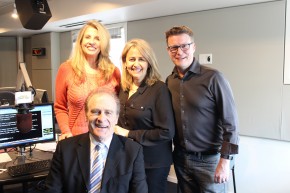 "People in my family tend to die of heart attacks, so I take it very seriously and I get as many check-ups annually as possible, and I would urge everyone above a certain age to do that," Norm explained, "But you know, over the last 60 years, research here in Toronto and elsewhere has reduced the death rate from heart disease and stroke by more than 75 percent."
Seventy-four year old Norm Kelly is using his high profile persona on the social media site Twitter to encourage followers to support Sunday's fundraiser.