This was something the character Samantha from TV's Sex and the City knew very well. Older women who have money and education have better sex.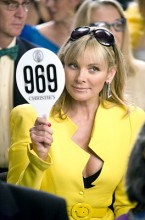 Research by a McGill grad student finds that the richer and more educated older women are, the better their sex lives.
Annie Gong says these women are definitely more empowered in the relationship, which leads to higher satisfaction.
And these factors transcend marital status, though both married men and women reported being more sexually satisfied than their single peers.
Gong says its a different story for men. Both older and younger men's sexual satisfaction hinges mostly on physiological factors, like their physical and mental health.
Her study is based on data analysis of nearly 3400 men and women between the ages of 55 and 85, surveyed in 2010 and 2011 by the National Social Life and Aging Project in the U.S.