This year's Edinburgh International Book Festival is going to feature a theatre adaptation of short stories by Canadian Nobel Laureate Alice Munro.'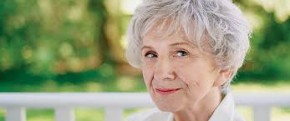 "The View From Castle Rock" imagines the experiences of Munro's ancestors who left Scotland in 1818 with the hope of a better life in Canada.The full program will be announced next month, but event organizers confirm the specially-commissioned Monro-based work work would form the centrepiece of the August festival.
Festival director Nick Barley calls Alice Munro the greatest living short story writer in the world and expects the presentation will bring Munro's story dramatically to life and cause a thoughtful, far-reaching discussion about human migration.
The Ontario-born, Victoria B.C.-based author has published 13 collections of stories and a novel.  Monro was awarded the Nobel Prize for Literature in 2013.