So have you seen the controversial billboards? The ones that say, TEXT AND DRIVE, and below that, what appears to be an ad for a funeral home.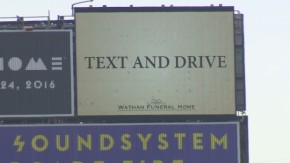 The advertising firm behind the ad campaign against distracted driving says it's proving to be quite successful.
The fictional funeral home billboards, one on the Gardiner Expressway, another at Albion and Steeles, urge people to text and drive, in order to boost their business through car accidents.
But when you go to the website for Wathan Funeral Home, you'll find information on the impact of texting and driving instead.
The John St. advertising agency decided to take on the issue of distracted drive on its own, opting for the provocative angle to grab public attention and not get lost among the many ads people see every day.
All provinces in Canada ban motorists from using handheld devices while driving.
Research from the Ontario Ministry of Transportation says people who take their eyes off the road for more than two seconds double their risk of getting in a collision.
And the Insurance Bureau of Canada says distracted driving may be a bigger problem than drunk driving in Canada.