At the unveiling of his official portrait, former Prime Minister Paul Martin talked about the importance of Parliament.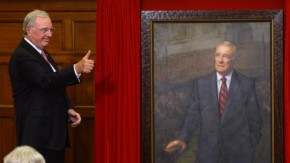 (Photo credit: Adrian Wyld/Canadian Press)
The painting, by renowned artist Paul Wyse, depicts Martin standing ready for a debate in the House of Commons.
Martin said it's a reflection on the need for Parliament to shape the policies that affect Canadians.
He also used the unveiling to lament the failure of the previous Conservative government to formally adopt the Kelowna Accord, which aimed to improve the health and well-being of Canada's indigenous peoples.
The portrait of Paul Martin is the 21st to hang in the Centre Block.