Prince Harry and U.S. First Lady Michelle Obama helped kick off the Invictus Games for wounded veterans last night.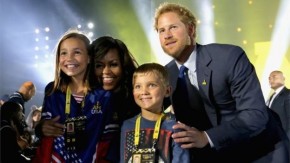 The two-hour event included live performances by British singer James Blunt and soprano Laura Wright.
Actor Morgan Freeman and former president George W. Bush sat in the audience at Disney's ESPN Wide World of Sports Champion Stadium in Orlando.
Amid the celebrity star power, the focus was on wounded former military members from 14 countries including Canada, who as athletes, are using sports to help with their rehabilitation, many after horrific injuries suffered in service to their countries.
Nearly 500 athletes will compete in the Paralympic-style sports competition over four days starting today. The Invictus Games will be in Toronto next year. Prince Harry was recently in Toronto to promote the event.