The earliest known eyewitness view of Niagara Falls, painted in 1762, has been acquired by England's National Army Museum after a public appeal to save it from export.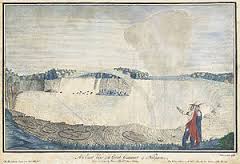 "An East View of the Great Cataract of Niagara" was painted by Captain Thomas Davie during one of four tours of duty in North America between 1757 and 1790.
The British government placed a temporary export ban on the painting last year after it was sold for nearly $200-thousand at a Christie s auction.
The Army Museum managed to acquire it with grants, including $75-thousand dollars each from two public charities and public donations.