Alex Trebek says it looks as though Canadians will soon be able to apply to compete on the TV game show Jeopardy again.
The 75 year old Canadian born game show host has presided over Jeopardy for more than 30 years. He made his comments in Ottawa yesterday where he received the key to the city and met Prime Minister Justin Trudeau briefly.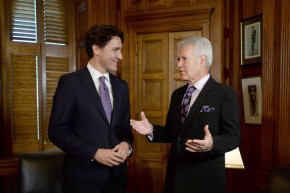 The prime minister praised Trebek's financial contributions to the University of Ottawa, and the two also discussed a return of Canadians to Trebek's popular show.
Changes in Canada's digital privacy laws last year caused problems over Internet applications, but Trebek says they are being worked out.