Leaders of Toronto's Black Lives Matter movement say they are encouraged by the calling of an inquest into the police shooting death of a mentally challenged black man but say there is still more work to do to combat systemic racism.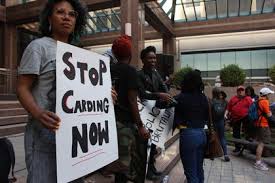 Co-founder Sandy Hudson was speaking at a a news conference outside Toronto Police Headquarters Sunday.  She said said the inquest into Andrew Loku's death does signify a strong commitment to address the group's demands however, more has to be done.  The group wants a complete end to "carding".
 Mayor John Tory says he's more than willing to talk through the problems, but says he's offered to meet privately with the group on at least five occasions and said it was mystifying that he was turned down down each time.