Recommendations on who should be taking low-dose aspirin to avoid heart attacks or stroke have been updated by the Preventative Services Task Force in the U.S.
The revised guidelines are based on a new look at long term data.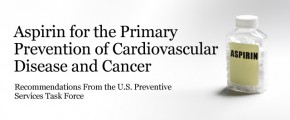 For people with no history of heart problems and a very low risk of cardiovascular disease, the task force recommends against taking a daily aspirin.
The scientists say that for people younger than 50 or older than 69, there is no evidence that a daily aspirin would be beneficial to prevent a first heart attack or stroke.
In fact, for those 70 or older, it may even be harmful due to the risk of bleeding.
You can read about the research in the Annals of Internal Medicine.