The legendary Burton Cummings was honoured at last night's Juno Awards in Calgary, for his recent induction into the Canadian Music Hall of Fame.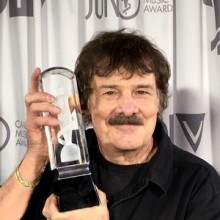 The 68 year old Canadian music icon fought back tears as he thanked his hometown of Winnipeg for a lifetime of support and paid tribute to his mother.
"I lost my Mom two years ago, but I think she's up there looking down, look Mom, look what I got!" Cummings said as he looked skyward.
Burton Cummings then returned to the stage to close the show as part of a tribute performance that also featured Jann Arden, Shawn Hook and the Tenors.
Later he posted this on Instagram:
Goodness gracious…three days…three thousand lifetimes. You're standing on stage with legends and they're calling you a legend. Strange days in deed. The photos taken of myself and Cheryl over the last few days must number as grains of sand. And people will query "Well BC, how was the little trip to Calgary…?" And so dear reader, where do I even begin…? The Tenors…almost surreal hangin' with singers like that…wow…to hear them sing Stand Tall like that…. it was a moment that any songwriter would kill for…not of this earth. I have truly been born under a good star. The accolades and praise and downright love thrown at me last night was something a handful of humans have ever even come close to. Remarkable indeed. My response…? Still I scream from my deepest soul, "I will continue to honour the music. One Juno winner last night said something I may never forget.. she said "Love what you do, and what you do will love you back. In my case, it has indeed. I'm surrounded by people that are so far above what we would call "the norm"… It's easy to give my all when people around me believe SO MUCH in what we do. I saw strings of my life go by last night on a huge screen, and then one of the hardest rockin' bunches EVER out of my beloved home country came out and made me feel like I had really done something. You know what…? There's still lots more to do… God Speed Mother Nature… Cheers… Burton
04 April 2016