The actor who played the role of Sherlock Holmes on TV in the 1960's has died.
The Sherlock Holmes Society of London confirmed Douglas Wilmer died last week in a hospital in Ispwich, England.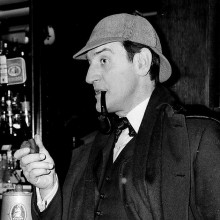 Wilmer played the famous role on TV in 1964, and 1965.
The Society called Wilmer's characterization of Holmes "incisive, drily witty, utterly in command of events…exactly as Sherlock Holmes should look and sound."
He later played in the 1975 TV Movie "The Adventure of Sherlock Holmes' Smarter Brother," and appeared alongside Christopher Lee in the "Fu Manchu" movies, and with Roger Moore in the James Bond film "Octopussy."
Wilmer was 96.