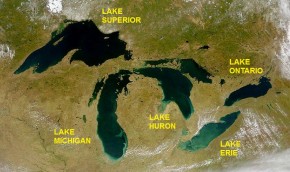 The Province of Ontario has a number of concerns about a Wisconsin city's interest in drawing water from the Great Lakes. Waukesha has asked the Great Lake States to allow it to divert water from Lake Michigan.
The community says its aquifer is running low and what water is left is contaminated with high levels of radium.
Ontario and Quebec have a regional agreement with eight US States that prohibits diverting water from the Great Lakes-St Lawrence River Basin.
Though it's located outside the boundary of the Great Lakes Basin, Waukesha wants to be the first exception to the ban because it is part of a county that straddles the geographical line.