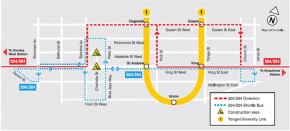 Beginning today and for the next two weeks, TTC streetcar track replacement and overhead work at King St. West and Charlotte will result in King being closed to traffic between Spadina Ave. and Peter Street.
For the next two weeks, streetcars will be on diversion.  If you you take the King 504 car from the Young – University Subway line, the TTC recommends you board at King Station on Yonge as St. Andrew station is being by-passed by the diversion.
The TTC hopes to have the work done and streets reopened by April 10th.