Fans of Steve Martin and Edie Brickell received quite the surprise on Broadway last week.
 After the cast of the new musical 'Bright Star' had taken their bows, part of the set swiveled around and on it was the pair that wrote the Musical.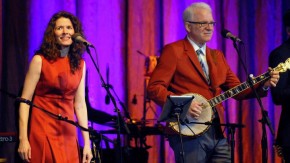 Martin and Brickell turned in the performance on Thursday night to a surprised audience.
The pair have written two full-length studio albums together, but Bright Star is their first Musical.