An extremely rare Beatles record, found languishing in a loft, has sold at auction for $110-thousand.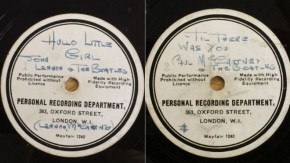 The 10-inch acetate, from 1962, has been described as "a Holy Grail item".
"Till There was You", was the first Beatles disc to be cut before the band broke into the national charts. It bears the writing of their manager Brian Epstein, describing the work as that of "Paul McCartney & The Beatles" and the B-side by "John Lennon and the Beatles."
The disc lay forgotten for years in the home of the keyboardist for Gerry and the Pacemakers.
Beatles historian Mark Lewisohn describes it as one of the "rarest and most collectable of all the Beatles records".