If shoes are your thing, plan to be in London Tuesday when Sotheby's will offer up a fashionista's dream: a complete portfolio of hand-coloured lithographs of shoe designs by Andy Warhol.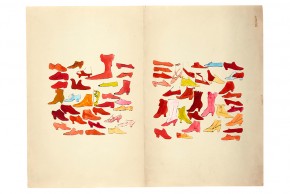 During a seven-year period in 1950's, Warhol self-published a series of portfolios, books and individual prints of offset lithographs, some hand-coloured, when he was a commercial illustrator for fashion magazines and advertising agencies.
It wasn't until the early 60's, that he moved to the more commercial pop imagery with which he is more remembered.
Warhol's portfolio contains 18 prints in total, has an estimated value of about $200 thousand dollars.