Researchers are questioning whether Tylenol is effective in easing pain for arthritis sufferers.
They pooled together data from 74 previous trials covering some 59,000 patients in all and they found that Tylenol did not produce medically significant improvement in pain or function at any dose.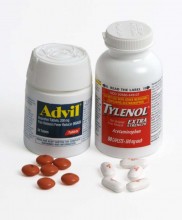 Tylenol, based on acetaminophen, is a commonly used alternative to dodge the gastrointestinal bleeding and kidney problems associated with ibuprofen which is sold as Advil.
(ABC News)