Six months after making it's debut at the Toronto International Film Festival, Room was a dominant force at the fourth annual Canadian Screen Awards last night.
The Canada-Ireland co-produced mother-son drama won best picture, best director, best adapted screenplay for Emma Donoghue of London, Ontario, best actress for Oscar-winner Brie Larson and best actor for its nine-year-old leading man, Jacob Tremblay of Vancouver.
"This is a good one for the collection, probably the tallest one, and heaviest," said Tremblay, who's become a media darling this awards season after appearances at the Screen Actors Guild Awards, the Critics' Choice Awards and the Academy Awards.
For Emma Donaghue, she says last night's bash at the Sony Centre for Performing Arts was a fitting cap to a wild year.
Another big winner, was the acclaimed miniseries The Book of Negroes, which collected nine trophies.
The Paul Gross war film Hyena Road won three awards for technical categories including overall sound, sound editing and visual effects,
The Canada-U.K.-Ireland co-production Brooklyn scored wins for best cinematography and original score.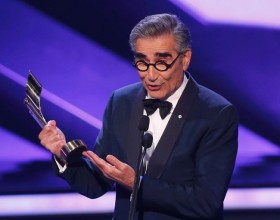 Eugene Levy's television sitcom Schitt's Creek won nine awards, including best comedy, and best actress for co-star Catherine O'Hara.
It seems the Canadian Screen Awards could soon have a new name; The Candys.
Show host Norm Macdonald suggested it during his monologue at last night's bash, as a tribute to late comic John Candy.