Comedic actor Steve Martin is continuing his love affair with Group of Seven artist Lawren Harris in Boston.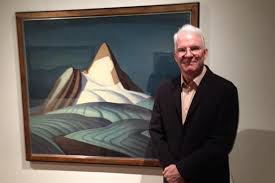 After being guest curator of a Harris exhibit in Los Angeles, Martin is repeating the process at Boston's Museum of Fine Arts.
Martin will be on hand Friday for a preview of the exhibition.  He'll discuss Harris' work at Saturday's public opening of the show.
Thirty Harris paintings will be on display, including landscapes of the northern shores of Lake Superior, the icy waters of the eastern Arctic and snow-capped Rocky Mountain peaks.
Martin says Harris deserves international acclaim for reaching another level of the metaphysics of landscape.
"The Idea of North: The Paintings of Lawren Harris" runs through June 12th.