A strong majority of Canadians, 68 percent, agree with a plan by the Trudeau Liberals to legalize marijuana.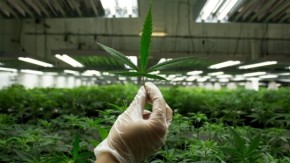 A new Nanos Research poll also reveals that half of them feel users should be able to grow their own pot at home.
And the survey finds Canadians would prefer that cannabis be sold in dedicated dispensaries or pharmacies than through a liquor store, which is the preferred choice of Ontario Premier Kathleen Wynne.
Justin Trudeau first promised to legalize marijuana in 2013 when he was federal Liberal leader. As prime minister, Trudeau has called on former Toronto police chief, Scarborough Southwest MP Bill Blair, to come up with the best model to legally distribute the drug for recreational purposes to adults while finding ways to make sure children don't have access to it.
Pollster Nik Nanos says the government has convinced the population of the wisdom of its promise, but that public consultations are still needed to determine how to proceed.