A 9th straight deficit is expected when Finance Minister Charles Sousa stands and delivers his latest budget this afternoon at Queen's Park.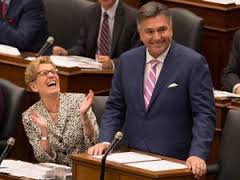 In advance of the budget, Sousa admitted to yet another deficit, but says steps are being taken to balance the books next year.  As it stand, the province is almost $300 billion in debt, which costs about $11 billion a year to service.
The budget is expected to contain a carbon cap and trade system that will push up the cost of fuel by more than 4 cents a litre for gasoline and about $5.00 a month for natural gas.
There is no change expected to to personal or corporate income tax rates, but expect various government user fees to rise – and there will be more Ontario grocery stores selling wine as a result of the budge, but expect the taxes on wine sales to increase.