After a long drawn-out dispute over ownership, the University of Oklahoma has agreed to return a painting that the Nazis stole from a French family during World War II.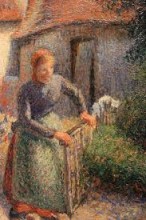 The title to Camille Pissarro's 1886 "Shepherdess Bringing in Sheep", will be transferred to Leone Meyer, a French Holocaust survivor whose father owned the painting when it was stolen.
The art work was acquired by the university 16-years ago from a family who bought it at  gallery in New York in 1956.
The painting will split its time being displayed at the university's Museum of Art in Norman, Oklahoma and at a museum in France.