He turns 90 this year and shows no signs of slowing down. In fact, Tony Bennett added another Grammy to his collection last night.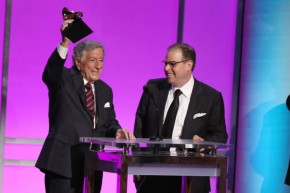 The legendary crooner shared in a Grammy win with pianist Bill Charlap for best traditional pop vocal album for "The Silver Lining: The Songs of Jerome Kern".
"Thank you very much," Bennett told the audience after skipping up the steps of the stage, "I'm thrilled about this. This'll be my 18th Grammy. You're so wonderful to me, thank you very much. And Bill Charlap is one of the greatest musicians and greatest artists I've ever met."
Charlap then offered his thoughts on the great Tony Bennett calling him, "a genius of popular music. He represents elegance, truth and beauty (with) the definitive presentations of these songs. He is a musical giant, my dear friend, Tony Bennett, the one and only."
Bill Charlap is the jazz studies director at William Patterson University in Wayne, New Jersey.