Despite a visit from Prime Minister Justin Trudeau this week, voters in the provincial byelection of Whitby-Oshawa have chosen the Progressive Conservatives to represent them at Queen's Park.
Lorne Coe won yesterday's vote by almost a two to one margin over the Liberal candidate, Elizabeth Roy.
Coe says he heard a lot of discontent from voters over the way Kathleen Wynne's Liberals are running the province.
"When you have to wait for care in a hospital, and you have to have your physiotherapy cut back as seniors did, and then you're struggling as a family to pay your hydro bill, and you have businesses here in Whitby-Oshawa leaving because of the hydro rates and the conditions in this riding are not sustainable anymore, those are the largest issues," Coe explained after his win.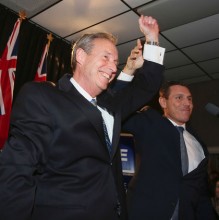 Coe celebrated alongside P.C. leader Patrick Brown, who took a shot at the Prime Minister's slogan from last October's federal election.
"It's nice to see that sunny ways have come with blue skies here in Whitby-Oshawa," Brown said to applause from supporters.
Premier Kathleen Wynne told her party's supporters, that by the time of the next provincial election in 2018, Whitby-Oshawa residents will take a second look at the Liberals.
Voter turnout for the byelection was low at 25 percent.