Wednesday evening's auction of contemporary art at Sotheby's in London hit total sales of more than $100 million.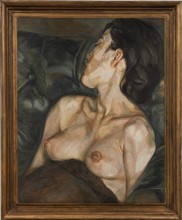 The sale was led by Lucian Freud's modern-day Venus, "Pregnant Girl" from 1960-61.  It sold for more than $23 million, more than $13 million above the pre-sale low estimate.  In doing so, it set a new record for an early painting by the artist.
The painting is a portrait of the artist's 17-year old lover, pregnant with their daughter, the internationally-renowned fashion designer Bella Freud.
The painting was pursued by no less than 6 bidders.