Two of the most unlikely U.S. presidential contenders won the nation's first primary in New Hampshire; Donald Trump for the Republicans and Bernie Sanders for the Democrats.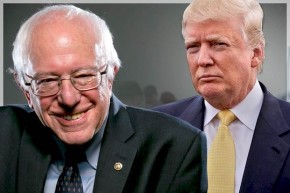 Both candidates have tapped into deep dissatisfaction with politics as usual, and now threaten to upend the race for the U.S. Presidency.
New York Real Estate mogul Donald Trump received 34 percent of the votes ahead of Ohio Governor John Kasich with 16 percent.
Vermont Senator Bernie Sanders is a self described socialist who has railed against income inequality. He scored an impressive win over former secretary of state Hillary Clinton, taking 59 percent of the votes in the Democratic primary, compared with 39 percent for Clinton.
"I know I have some work to do," Clinton told supporters, "particularly with young people, but I will repeat again what I have said this week, even if they are not supporting me now, I support them."
The focus for both parties now turns to primaries in Nevada and South Carolina.