More details are to be forthcoming today about the length and scope of Toronto's threatened cabbie strike this weekend.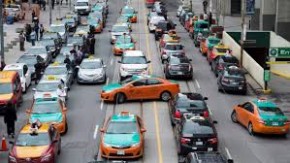 The newly formed United Taxi Workers have scheduled a news conference at Toronto City Hall today.
The cabbies are planning to strike Friday to draw attention to their fight with ride sharing service Uber X, just in time for this weekend's NBA All-Star festivities in Toronto.
Organizers say that since city council voted to delay a possible injunction against Uber X last week, the cab drivers have been forced to take matters into their own hands.
An Uber app can be used to summon a licensed cab, but another of Uber's services, Uber X, connects passengers with private drivers who use their own vehicles, do not have taxi licenses and therefore don't pay the kind of fees the cabbies must.