Former Toronto Maple Leafs captain Darryl Sittler was honoured ahead of last night's game at the Air Canada Centre for his record breaking 10 point performance on Feb. 7, 1976 that stands to this day.
It's the 40th anniversary of the achievement, when Sittler made an incredible six goals and four assists in an 11-4 rout of the Boston Bruins at Maple Leaf Gardens.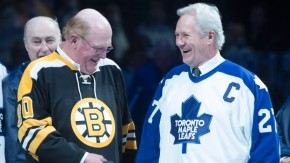 Last night, Sittler walked out to a standing ovation, along with eleven of his 1976 teammates, including Lanny McDonald, Tiger Williams and then Leafs coach Red Kelly. Sharing in the anniversary was Dave Reece, who was in the Boston net on that record breaking night. Wearing a Bruins jersey, he got a nice round of applause for being a good sport. Reece plans to donate the Bruins jersey he wore to the ceremony to charity, augmented with his and Sittler's autographs.
65 year old Sittler works with Maple Leaf Sports and Entertainment in corporate and community relations. He is immortalized outside the Air Canada Centre in the Leafs' Legends Row. In 2003, his number 27 was raised to the ACC rafters.
Asked if he thinks his record will ever be broken, "Honestly, I hope not but it could be," said Sittler.